Update 14 Dec 2012
Then how about this performance on 6th April 2010, when he scored all 4 of Barca's goals in the 4-1 demolition of Arsenal in the first leg of the 2009-2010 Champions League quarterfinals, prompting sports writer Andy West to gush:
On Tuesday night in the Nou Camp, Messi was at his bewildering best. For 25 unforgettable minutes at the end of the first half, he played as well as any human being ever has. That might be a rather bold statement and maybe Pele, Puskas, Eusebio or Maradona in their prime might have rivalled it…but I doubt it. As opposing goalkeeper Manuel Almunia ruefully noted in the immediate aftermath of his ordeal: "His skills are so great, he can do anything he wants, whenever he wants." For once, it was no exaggeration.
———————
28 Apr 2007
Lionel Messi (Messi-ah / Messidona) is better than Diego Maradona? Has he scored a goal better than the Goal of the Century on 18th April 2007? Can even Cristiano Ronaldo or Ronaldinho at their very best do this?
On 18th April 2007, Barcelona's Lionel Messi scored 2 goals during a Copa del Rey semifinal against Getafe CF. The first goal was very similar to Diego Maradona's goal against England at the Quarterfinals of the 1986 World Cup, also known as the Goal of the Century. Messi ran about the same distance (60 metres), beat the same number of players (6, including the goalkeeper), scored from a very similar position, and ran towards the corner flag just as Maradona did in Mexico 21 years before.
Maradona's feat was so monumental that a statue of him immortalizing the moment was erected outside the stadium. England striker at the 1986 World Cup, Gary Lineker, who scored the English goal of that match said "[it was] probably the one and only time in my whole career I felt like applauding the opposition scoring a goal."
Of course the speed of the game has progressed: Messi dribbled much faster than Maradona did.
If Maradona's goal is Goal of the Century, what then should Messi's goal be called?
And the video below is spot-on: Maradona's goal played side-by-side with Messi's (after the jump):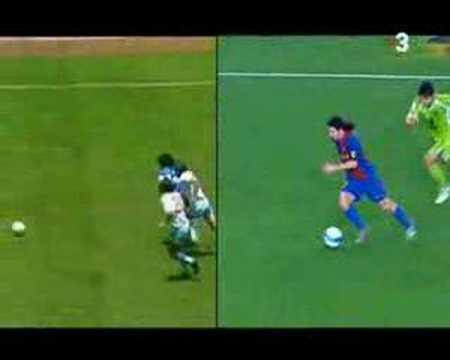 A clearer video of Messi's goal. I wonder what Samuel Eto'o, himself one of the world's greatest players, said to him at the end: