Up to 30th June 2011, 80 men have broken the 10-second barrier, mostly of African descent.
In 1984, Poland's Marian Woronin timed 9.992, so unofficially he's the first non-black person to beat the mark.
In 2003 Australia's Patrick Johnson, then 30, who has Irish and Indigenous Australian heritage became the first person from a non African background to break the barrier, when he clocked 9.93s, making him the 17th faster man ever and the 38th man to break the 10-second barrier.
On 9th July 2010, Frenchman Christophe Lemaitre, 20 became the first caucasian / white European to officially run the 100m in under ten seconds when he clocked 9.98 at the French national championships. On 29th July 2011, in the following year's edition of the same championships, he did even better: 9.92s.
This is a video of his feat in 2010: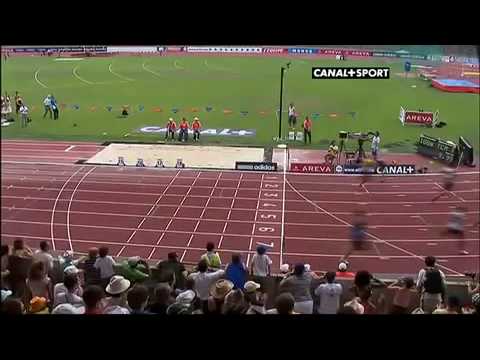 His comments after achieving the feat:
This was my goal to break it of course. One has to run under 10 seconds in order to be part of the world's best. I will be recognised as the first white man to run it, but today is mainly historical for myself! It's not about colour, it's about hard work.
No Asian has ever done it.