In the third set of a men's singles second round match in the 2012 Australian Open on 18th January 2012 between unseeded Marcos Baghdatis (world no.43) and 21st seed Stanislas Wawrinka, Baghdatis was 2 sets down (6-7, 4-6), and during a changeover, he snapped: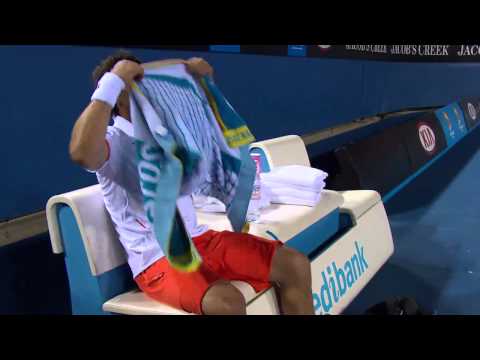 That's 4 rackets destroyed in less than a minute: possibly a record for rackets destroyed in a single match at the highest level of tennis.
That meltdown somehow lifted him to win the third set 7-5, before succumbing again in the fourth 1-6.
But is he the greatest pro racket-smasher who ever lived?
Marat Safin, the 2005 Australian Open champion and former world number 1, was said to have broken about 700 rackets in his 12-year career (1997-2009). Another source said that in 2011, he said that he'd destroyed more than 1,000 in total. Apparently he destroyed 48 rackets in 1999 alone.
Then there's sentimental favourite Goran Ivanisevic, who had to retire due to breaking all 3 of his rackets in the second round match against Lee Hyung-Taik in the 2000 Samsung Open. He didn't have any more rackets with him, and there weren't any suitable ones for borrowing.
Supervisor Gerry Armstrong then told umpire Kim Craven to announce the incredible:
Due to lack of appropriate equipment, game, set and match Lee.
Some people say Ivanisevic broke even more rackets than Marat Safin in total